BUY NOW PAY LATER
Pay in 3 Payments
Split your purchase into three interest-free payments.
Pay in 3 is an interest-free loan provided by PayPal that lets you split your basket into 3 payments.
You don't need to apply, just add items into your shopping cart and go through checkout process and pay your order by PayPal.

And finally, at payment process select "Pay in 3" and Complete Purchase.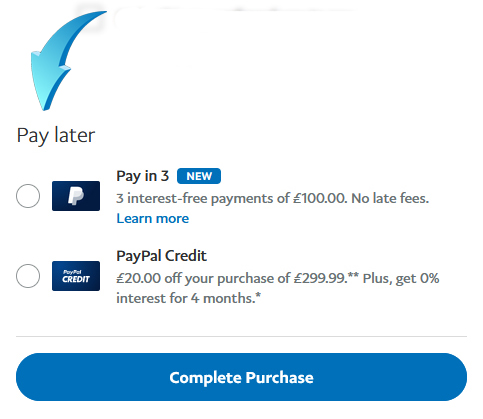 No, you can use your Credit/Debit card.
Your plan will last 2 months in total. The first payment will be due at the time of purchase, followed by 2 further payments due each month after that.
To apply for PayPal Pay in 3, you'll need to provide your:
Title
Phone number
Address
Date of birth
Payment details
If you pay by debit card, and you don't successfully make a purchase using PayPal Pay in 3, PayPal will automatically void the pending authorisation within 24 hours of placing the pre-authorisation hold. Funds will not be taken from your card if the PayPal Pay in 3 transaction was not completed.
Your first payment will be charged at the time you make the purchase. After that, your 2nd and 3rd payments will be charged in the two subsequent months, on the same day of each month. For example, if you make a purchase on 5th May, your 2nd and 3rd payments will be due on 5th June and 5th July.
If a payment is due on a date which doesn't exist in a month, such as the 31st February, then payment will be taken on the last day of that month.
We'll send you a reminder by email or SMS 10 days before your payment is due detailing the amount of your payment, the payment due date and the funding instrument the payment will be taken from. You can see your payment schedule or make unscheduled payments at any time by logging into your PayPal account.
No. Once you agree to the terms of your PayPal Pay in 3 plan and your payments begin, you cannot pause, suspend, or skip your payments. The second and third payments will be taken automatically.